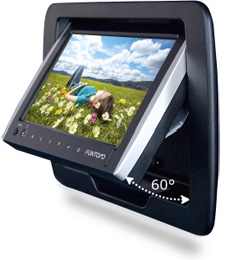 Basic features
Independent choice for 54 passengers
FUNTORO MOD system is a multimedia system offering an independent choice of movies, music, pictures and other multimedia content for up to 54 passengers at one server.
Every passenger in the vehicle is able to choose their own content from the wide range of multimedia titles individually, regardless of their neighbour's choice. They can move within the movie forward or backward just by touching the monitor. So all of them can watch the same movie at the same time, or watch the same movie with time delay or a different track or everybody can watch a different movie. Every user hears the sound using headphones which are connected directly to the monitor so they are not disturbing each other.
Movies, music, pictures, games

Every passenger in the vehicle can individually choose from the content stored on a digital SSD disc: tens to hundreds of movies, thousands of music tracks and pictures. If this is not enough, you can easily connect your gamepad and enjoy your games.

Watching the TV, other AV sources

External AV sources can be connected to the basic system and extend the possibilities with watching the TV programme thanks to DVB-T or satellite antenna, watch the road on the picture from front view camera, follow the driver's navigation system, DVD etc.

Touch screen monitor

System control is very easy and intuitive. Just touch the monitor and select your favourite content.

In case you are not sure, just read the short manual. You will learn how to browse the offer, how to choose movie or music, how to move within the movie, adjust the volume, brightness etc. Thanks to adjustable 60˚ angle of the monitor, passengers get the optimal view on the screen regardless of the seat position in front.




Reliable and stable system
Thanks to used technologies and IT and PC know-how is system reliable and stable.

Last Good

Resumes playback from the last frame – the passenger will not re-play anything after turning the system Off and On again.

Auto Recovery - Auto Restart

Auto detection of the problems in the system with automatic restart when a significant problem is detected.

Dual Boot

When the boot system fails a back-up boot system will start the system automatically.
BASIC ARCHITECTURE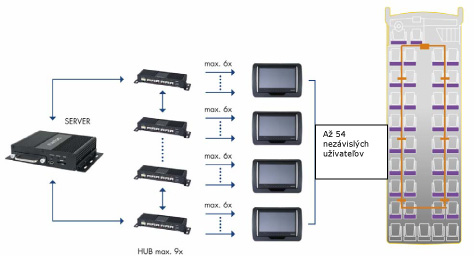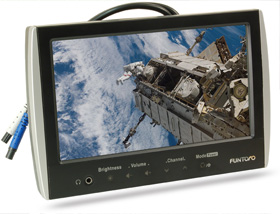 Basic features
Effective solution of multi-channel audio-video system Every passenger in the vehicle has his own monitor, own headphones and choice from 8 – 32 channels with movies or music. Basic server model offers 8 video channels, 8 audio channels and 4 external AV inputs (TV, DVD, camera…). Multimedia content (8 video and 8 audio channels) is stored on the SD cards with 8 – 32 GB campacity.
Everybody can select from 8 to 32 channels with different broadcasted genre It is possible to extend the basic server with addition 12 channels thanks to compatible components and software. You can connects various audio and video sources and add to the offer additional possibilieties: DVB-T stations, satellite programmes, radio stations, external camera views or others.
Intelligent monitor high-quality picture, electronic control buttons and adjustable monitor angle – these are the features, which ensure undisturbed and comfortable watching of choosen channel.
BASIC ARCHITECTURE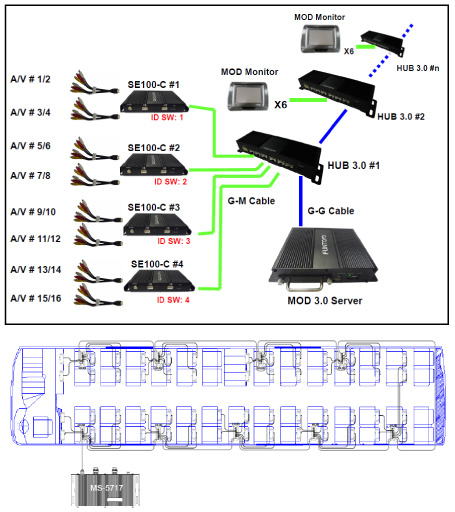 Basic features
Information and entertainment in the vehicle System, which includes the advertisement playback, real information broadcasting and entertainment. It is using standard central monitors in the vehicle. Broadcasted content is controlled by driver or guide via their touch screen monitor. Multimedia content – video, music, pictures – is stored on the SD card. In addition it is possible to connect external AV sources (DVD player, TV tuner, cameras etc.) to the telematics box.
Extended options Basic "telematics box" can be extended with GPS navigation, Bluetooth and Wifi module, external USB GPRS module.
Driver´s monitor 7´´ touch screen monitor is multiuseful – control of the DVD/VCD/navigation/cameras etc. The guide or driver control broadcasted content on the monitors in the vehicle.
Basic architecture