Passangers cars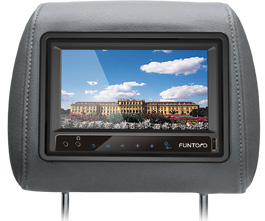 Basic features
First multimedia system for passenger cars with 3 independent zones
There are three monitors – the head unit and 2 monitors for passengers at the back seats, on which the passengers can watch their favourite movie, listen to the music, watch the pictures, watch the TV or navigation or play the games – independently and without disturbing the driver.
Complex system
Standard server includes built-in multimedia player (SD card, USB), DVB-T tuner, games and optional GPS navigation. It is possible to connect external AV source thanks to AV input. The rearview camera can be connected as well.
Stable and reliable system
Thanks to IT and PC know-how and technologies, the system is stable and reliable.
Last Good

Resumes playback from the last frame – the passenger will not re-play anything after turning the system Off and On again.

Auto Recovery - Auto Restart

Auto detection of the problems in the system with automatic restart when a significant problem is detected.

Touchscreen 7´´ monitor

7´´ touchscreen monitor with high-resolution, high picture quality is suitable for installation into the headrest. If you don´t want to use original headrests, you can order the monitors already built in the headrest (black, beige colour). The monitor has integrated speaker, IR transmitter for wireless headphones as well as 3,5 mm Jack on the front panel.  This allows passengers not to disturb each other and can enjoy their own content. Thanks to AV input on front they can connect the Game Pad as well.
Basic architecture