Funtoro
Private cinema...only?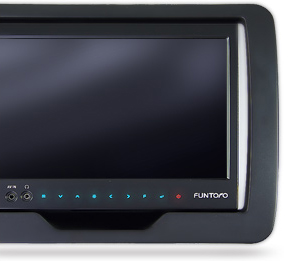 You don´t have to be afraid of boredom during your travelling!
Watch your favorite movies coming alive on widescreen monitor with high picture quality. Touch the screen and choose your way of entertainment regardless other passengers´ choice. Every passenger has his own monitor and own headphones and everybody can enjoy the content without disturbing the others. It´s up to you – you can choose your favorite movie, TV channel, music, pictures or connect gamepad. You can follow the road using the picture from front view camera if you are sitting at the back of the coach. Do you want to know, what is your current position or how many kilometres is to the final destination? Just one touch and you get the view on the coach position on navigation map or position within the planned route with information about the distance to next stop or final destination..
Adjustable monitor angle up to 60˚ ensures optimal view on the screen regardless of the position of the seat in front of you.
Features possible only at the aircrafts are now coming true on the ground. Just touch the screen and discover new entertainment dimensions.
Features improving system reliability

Unique multimedia system of the future.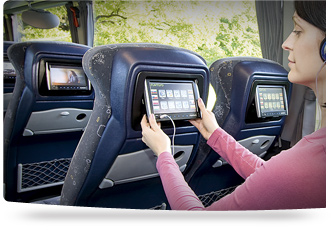 Outstanding system.
FUNTORO system is outstanding solution with client-server architecture, based on high-end technologies and high production quality. All components are in accordance with automotive use standards thanks to know-how and production technologies.
FUNTORO is open platform system with almost unlimited possibilities. Research and development team is continuously working on functions improving and developing of new features useful for users and operators as well. All improvements can be done for existing hardware. Thanks to the open system, it is just a question of software update. The operator can extend his systems anytime and offer the latest innovations and technologies to his customers.
Internet and remote access in the future will allow to include premium paid movies and music with payment via SMS or to control and update the system SW and content online. The future is also internet access for passengers, collecting, analyse and sending of the information from customers surveys to the central server, advertisement updates and programming via internet and a lot of further functions.
Proffesional research and development team is able to make all your multimedia wishes come true.
What does Funtoro offer for the bus operator?
Customer satisfaction

Increased satisfaction of the passenger is operators´ goal. Offer your passengers unforgettable multimedia experience and you can be sure, that they will come back to you and they will spread good experience.

Competitiveness

You can increase your competitiveness and image, attractiveness of your offer and improve your services and increase their value by using Funtoro system in your coach. In addition you can increase your revenues by offering advertisement space, market research possibilities via electronic surveys.

Information for passengers

Passengers will not miss any important notice from driver or guide while enjoying the movie. The played content is paused during the announcement and continues just after the microphone is switched off.